Year 7's Inspiring Poem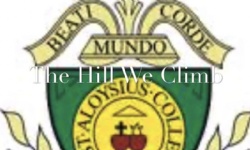 Our Year 7 students were inspired by Amada Gorman's powerful poem and have worked with teachers to produce their own version about their lockdown experiences and striving to be the best they can be.
We are so proud of their mature attitudes and aspirational commitment to education during these challenging times. Our young students have adapted well to this new way of working, and have thrived with the support of our dedicated teachers. It is truly inspiring to see our young students so passionate!