Register Now for Our Interactive Virtual Open Evening - Thursday 1st October 2020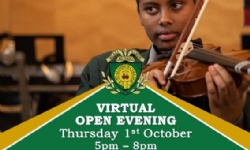 We warmly welcome Year 6 students and their families to our Virtual Open Events for Year 7 September 2021 admission!
The safety and wellbeing of our students, staff and wider community is at the heart of everything we do. With this in mind, we have made the decision to hold virtual Open Events for the time being.
Our Virtual Open Evening will take place on Thursday 1st October with allocated timeslots between 5pm – 8pm. Only those registered will be able to access the event.
We appreciate that much of the open event experience is meeting our dedicated staff and thriving students, and although we cannot facilitate face to face encounters at this time we endeavour to ensure our virtual event is an interactive and informative experience for you and your son. The event will include; an interactive virtual tour, videos from teachers and students, presentation from our new Headteacher, Ms Paula Whyte, and a Q&A segment.
We hope to meet you in person and welcome you to our school site soon!