Register Now to Receive our Digital Pack including Virtual Tour, Videos from Students and Teachers, and Digital Prospectus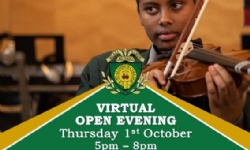 Our live Virtual Open Evening has now passed. We would be delighted to share the information with you via our Digital Pack which includes an introduction from our Headteacher, a link to our interactive virtual tour with videos from teachers and students, and our digital prospectus.
The safety and wellbeing of our students, staff and wider community is at the heart of everything we do. With this in mind, we made the decision to hold virtual Open Events for this year.
We appreciate that much of the open event experience is meeting our dedicated staff and thriving students, and although we cannot facilitate face to face encounters at this time we endeavour to ensure our digital pack provides an interactive and informative experience for you and your son.
We hope to meet you in person and welcome you to our school site soon!