Year 9 Basketball Team National Champions!​​​​​​​​​​​​​​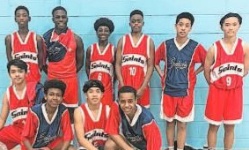 We are delighted that our Year 9 Basketball Team have been announced as national co-champions in their age category!
Our team were the only undefeated team in their league and have won the title of joint best school in the country!
St Aloysius' College and Islington Panthers Coach Will Akuffo praised the team "Congratulations to our year 9 Basketball team, the boys worked really hard and showed a great commitment all season to achieve this level of success. We had high aims this season and I'm happy we were able to bring another trophy to our school."
The boy's were looking forward to facing St Bonaventure's School in the grand final in March 2020 but it was unfortunately cancelled due the the global pandemic. The St Aloysius' College team had won again St Bonaventure's in a previous game this season and had high hopes of repeating that victory to win the league.
Earlier in the season the boys also featured in our local newspaper for their incredible talent and success.