EARLY CLOSURE – Friday 13th March 2020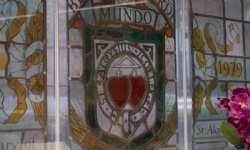 Students in Years 7-10 will be dismissed by 1:35pm. Students in Years 11, 12 &13 will be dismissed at 12:40pm.
Although there may not be a raised threat from Coronavirus at St Aloysius Catholic School and we have put in place all the recommendations from the appropriate bodies, I think it appropriate to ensure that we are ready to support students should there be a forced closure. For this reason, time will be set aside on Friday 13th March 2020 for staff to upload/enhance work on "Show My Homework". In order to facilitate this, I have agreed to a slightly early closure on Friday for students starting from 12.40pm.
Students in Years 7 to 10 will receive their lunch as normal followed by registration at 1.25pm, the start of period five. Students in Years 11, 12 and 13 will be dismissed at the start of lunch at 12.40pm. It is my expectation that we will re-open on Monday morning at the normal time. Any additional advice will be available on the school website.
Thank you for your continued support.