Celebration of Success Evening!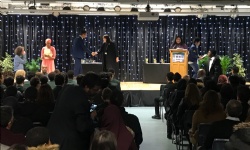 We had a truly spectacular evening celebrating the success of current and past students.
On Tuesday 10th December we welcomed last year's GCSE and A Level students back to St Aloysius' College to receive awards and celebrate their outstanding achievements.
We also celebrated the current students End of Year results, with ten students from each year group (8-11) receiving awards and trophies; five students with the highest attainment in their year, and the five students with the most progress throughout the year.
It was wonderful to have so many proud parents and fellow students celebrating these achievements with us, the atmosphere was electric!