World Book Day 2019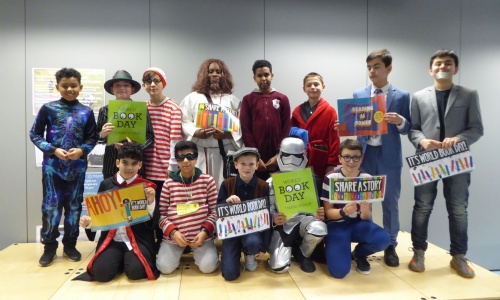 We had such a brilliant World Book Day 2019! We are delighted that students spent the day celebrating 'Reading is Power'. A huge thank you to all our wonderful staff for their tremendous efforts in ensuring activities took place across all subjects and year groups!
Students across years 7 and 8 spent the whole day taking part in World Book Day activities which were specially designed to improve their literacy skills and develop their love of reading! They wrote mini sagas, had group readings of Roald Dahl's The Land Lady, DEAR sessions, and the hugely successful and exciting year 7 and year 8 Spelling Bee events! You can see year 7's sensational tie breaker round here, and year 8's tense final round here.
All other year groups had World Book Day themed activities as part of their usual lessons; maths problems revolved around books, pages and words, media studies wrote news articles about their favourite novels, science lessons featured spelling tests on tricky scientific words, computer science created book review blogs, and so much more!
Throughout break and lunch times our Library hosted a Willy Wonka themed stall and some great activities for all year groups to enjoy!
We think you'll agree our staff and students look fantastic and made an incredible effort with their book themed costumes!
We already can't wait for next year!