Come to our Winter Music Concert on Thursday 28th November 2019 - Doors Open at 4:30pm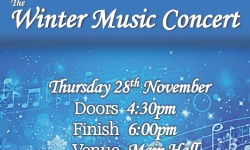 The St Aloysius' College Music Winter Concert will be held on Thursday 28th November – 5pm to 6pm. We warmly welcome all students, parents, family members and staff to attend.
The event promises to be a wonderful occasion, with the emphasis as always on showcasing the musical talents of our students.
This year we are focusing on giving our Yr10 & Yr11 GCSE music students an opportunity to showcase their performance coursework. There will be a varied program of musical styles and instrumental performances ranging from solos and duets to small groups.
The show takes place in the school's main hall, entry is Free of charge and doors will open at 4:30.
We look forward to seeing you there,