Year 9 impressed by award-winning Grimshaw Architects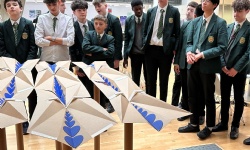 Different perspectives: Year 9 paid the East London headquarters of Grimshaw architects a visit.
They were particularly impressed by the folded roof the award-winning architects built over Pulkovo Airport in St Petersburg. Formed by twelve 18-metre-wide bays, the roof is engineered to cope with Russia's notoriously harsh winters and evenly distribute snow loads. The students had a chance to marvel at the impressive structure from all sides (as pictured). A big thank-you to Grimshaw Architects for having us. More information about the horizon-expanding learning in our DT department under Mr Harvey in this week's St Aloysius' College newsletter, soon to be uploaded!