Year 11's PGL trip combines outdoor fun with studies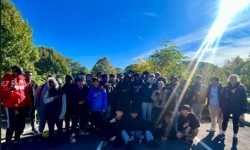 Our Year 11 boys enjoyed a jam-packed weekend of English, Maths and Science revision, as well as energetic physical activities at PGL Liddington, Wiltshire. It formed part of our support package of preparing the students for their GCSE exams next summer.
Ms Doorly, Ms Toprak, Ms Kisten and Mr Mahon accompanied the group.
On the activities side of things there was axe throwing. Riyaz turned out to be an expert in the sport, a real natural. The giant swing raised of few pulses too, as Ms Doorly reports: 'Some tough brave young men were reduced to shrieks as they were hoisted 32ft into the air by their fellow classmates and launched into a hurtling swing.'
Another challenge was found in crate building: students had to engage teamwork and communication to save their team members from falling from their self-built perch!
Year 11 also enjoyed access to the site's astro turf for a few challenging games of football with the Head Boy Emmanuel's team emerging victorious!