St Aloysius' College celebrates strong GCSE results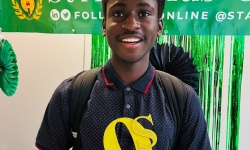 More good news from the thriving north Islington secondary school.
Having celebrated excellent A-Level results last week with 62% grades A*/A/B, the assembly hall at St Aloysius' College was filled with an exciting buzz as boys opened their GCSE exam results. Cheers went up to acknowledge individual successes including a full sweep of ten grade 9s (A**) and several boys with grades 9-7 (A**/A*/A). This Catholic boys' comprehensive school in Hornsey Lane, Highgate, has delivered another excellent set of GCSE results, despite the disruption of the Covid pandemic and the impact of the cost of living crisis.
The school secured 27% grades 7+ against a national figure of 22% (England-boys and girls) and 73% grades 4+ against a national figure of 68% (England-boys and girls). We are currently awaiting the national figures for boys only.
Headteacher Paula Whyte commented: "These young men have done us proud. Our GCSE pupils have proved themselves to be highly resilient. They were very focused and worked diligently throughout, supported by their dedicated teachers and parents and families. Very evidently, this effort has been rewarded with excellent results, all of them richly deserved. The students are about to start the next phase of their educational journey which is wonderful to see.'
Students were delighted with their individual results, including David Baah-Okyere (pictured), who secured ten grade 9's. David added, 'The school provided me with excellent teaching and very strong pastoral support, and I felt very well-prepared for my GCSE examinations. I will now focus on securing three A* grades at A-Level'.
Mrs Whyte goes on to say: "As Headteacher, I am extremely proud of what our pupils, staff and parents have achieved. Last year's OFSTED Section 5 report recognised that pupils at St Aloysius College work hard and achieve well, and that staff have high expectations of all pupils and want the very best for everyone. These 2023 GCSE results, in addition to our 2023 A-Level results, are further testament to this. I am delighted to welcome girls into our school community in Years 7 and 8 from September 2024".