St Aloysius' College celebrates GCSE results!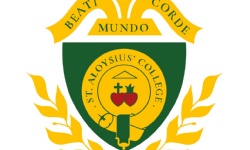 From Ofsted to exam success: St Aloysius continues to move from strength to strength. We are so proud!
Having celebrated excellent A-Level results last week, the assembly hall at St Aloysius' College was filled with an exciting buzz as boys opened their GCSE exam results. Cheers went up to acknowledge individual successes including two boys who each secured ten grade 9's and also twelve boys who secured ten grades 7-9. This Catholic boy's comprehensive school in Hornsey Lane, Highgate has once again delivered another excellent set of GCSE results despite the challenges faced due to the pandemic.
The school secured 34% grades 7+ against a national figure of 25% (England-boys and girls) and 85% grades 4+ against a national figure of 73% (England-boys and girls). We await the national figures for boys only.
Headteacher, Paula Whyte, said " These young men have done us proud. Despite two lockdowns our GCSE pupils have proved themselves to be highly resilient. They were very focussed and worked diligently throughout, supported by their teachers and their parents and families. Their hard work has been rewarded with excellent results which are richly deserved.''
The school secured 79% of English and Maths grades at 4+, 63% of total grades 5+ and 34% grades 7-9. Standout performances were seen in several subjects. English secured an impressive 78% grade 5+ and 35% grades 7+, French secured a superb 61% grade 7+, Geography secured 52% grades 7+, Chemistry 74% grades 7+, Biology 71% grades 7+, Music 40% grades 7+ and Maths 29% grades 7+.
Students were delighted with their individual results, including Jabir Hussain and Mayan Maheswaran who both secured ten grade 9's.
Mayan added, 'The school continued to provide excellent teaching during lockdowns and I felt very well prepared for my GCSE examinations. I will now focus on securing three A* grades at A-Level'. Jabir added, "This school has very high expectations and I was very well supported by excellent teaching and pastoral staff over my five years here. I can't thank the staff enough for what they have done for me.'
Assistant Headteacher, Ms Garrib, said 'It is very pleasing to see so many happy young men opening their exam results today. They have shown great resilience and risen above the challenges and uncertainties resulting from the pandemic. It is very pleasing to see so many signing up for our Sixth Form. We look forward to working with these talented young men in the next phase of their education.'
As Headteacher, I am extremely proud of what our pupils, staff and parents have achieved. Our OFSTED Section 5 report (July 2022) recognised that pupils at St Aloysius College work hard and achieve well and that staff have high expectations of all pupils and want the very best for every pupil. These 2022 GCSE results, in addition to our 2022 A-Level results provide further evidence of this.
These results are absolutely first-rate and are yet another step forward on the positive path that this school is now on. They should feel so pleased with what they have achieved.
Prospective parents are warmly invited to attend our Open evening on Thurs Sept 29th 4.30-7.30pm, our Open Saturday on October 1st 9.00-11.00am and our Open mornings Mon Oct 3rd-Fri Oct 7th, 9.15-10.15am.