Leavers' Day 2023: going out with a bang - and lots of sunshine!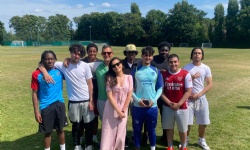 Warm and sunny - our students and teachers couldn't have wished for more ideal weather conditions.
Friday 23rd June - St Aloysius' College Leavers' Day 2023. New memories were made with a whole range of exciting activities for our Year 11 & 13 students. They worked incredibly hard for their respective exams and therefore more than deserved a carefree and relaxed afternoon in the sunshine - which is exactly what we organised for them on our sports fields on Hurst Avenue. The dress code was smart casual - or either/or - and as you see in our picture spread on Facebook, some of the boys went all in when it came to dressing up for the occasion. A big "Thank You" goes out to our photographers who snapped away all day to present you with an uplifting and sun-drenched collection of pictures. Click here for more details and enjoy!