Focused, articulate, polite - Sixth Form students impress professionals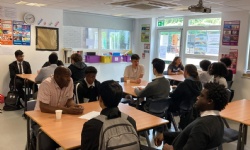 Interpersonal skills were tested during Progressions Week in Year 12. The outcomes were positive all round.
Looking into the future: our Year 12 students met professionals from various industries to discuss potential career pathways. A range of presentations and round-table discussions gave the boys an opportunity to explore options and engage in some invaluable networking. 'How can I turn my talents and passions into a job that I find fulfilling?', was the questions on everybody's lips.
The professionals were impressed by our Sixth Formers, as the following testimonials show:
'What a great cohort of students! It was really inspiring to find that a lot of students already know what they want to do and are working towards some great career paths. Whilst I may not have converted anyone to the wonderful world of environmental health, I was still able to impart some knowledge about the world of work. Thanks for having me!' - Anne Coates, Environmental Health expert
'I must say, I've been doing this a few years, and I was extremely impressed with these students: focused, articulate and polite; a credit to their school and I wish them well on their respective journeys.' - Diana James, School Liaison Officer
Well done to our Year 12 students who represented St Aloysius' Sixth Form College in such a positive light.