Ex-Aloysius student scoring big in Italy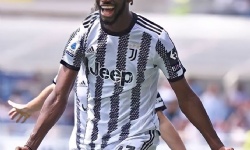 Being a student at St Aloysius' College can lead to big things.
Fantastic news from one of our alumni: Ex-St Aloysius student Samuel Iling Jr scored a goal on his full debut for Juventus FC on Sunday. "I'm proud to be at Juventus. [Massimiliano] Allegri is a top coach", the talented England winger said during the post-match media round. We are obviously very proud as well: to have such an inspiring role model to talk to our current students about is great. Samuel even donated a signed shirt to his former college, clearly showing that he will always remember his roots. We wish him the very best for his future in the England team and Italy's Serie A.