BTEC Sports students row, row, row a boat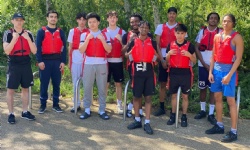 A sunny early summer's day set the stunning backdrop for a rowing adventure.
#Throwback to the week before half-term, when our Year 12 & 13 BTEC sports students enjoyed a fun day on the water. Big thanks to Samuel from the London Youth Rowing team for organising and running the session at the Queen Elizabeth Olympic Park in Stratford. The boys enjoyed every minute and even got in the competitive spirit at the end, when they raced against each other. Summer sports season 2023 truly opened!