Aloysius' Basketball Academy scores two wins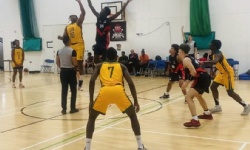 Good news only from our ballers.
The first #basketball academy team - made up of Sixth Form students - played an away game against Cohenel earlier this month, and won with an impressive score of 82 – 51.
We're pleased to report that the second team came up trumps as well: they played against St Charles' at home and won their game with a score of 63 – 60.
Well done to the boys and their indefatigable coach, Mr Akuffo! Long may this successful run continue.