A Level Results Day 2021: Record numbers off to top universities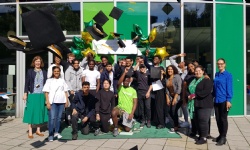 Excellent results pave the way for our students to reach a number of top Russell Group universities.
It has been another successful year of A Level results for St Aloysius College. Our students have finished the year strong despite the difficulties of Covid and are up for the next challenge of further education. We are proud to have achieved outstanding results this year and our school continues on an upward trajectory, making stronger progress year on year.
A Level - We had 16 students studying A Levels at St Aloysius College.
49% of all grades achieved was grades A - A*, 83% of all grades achieved are A* to B, 93% of students achieved grades A* - C and for the the third year running 100 % of students achieved grades of A* - E.
38% of students achieved grades AAB and above with 81% of students (13 out of 16) achieved at least one A*/A grade.
Our students have made phenomenal progress with their A Level studies, with the college achieving an average L3 value added of 1.3.
In subjects 3-D Design, Politics and Spanish achieved 100% A* - A grades with Psychology achieving 75% of grades at A* - A, Physics achieving 67% A* - A grades and Chemistry, Economics, Geography, History and Sociology achieving 50% of grades at A* - A.
Most subjects achieved 100% A* - C grades and these include Biology, Chemistry, Economics, English Language, Geography, History, Graphics, Physical Education, Politics, Psychology, Sociology and Spanish.