Remembrance Sunday Mass to be celebrated by Aloysius Alumnus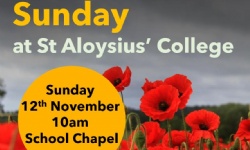 The college continues with a valued and important tradition that goes back decades, expanding the following invitation:
'We are pleased to invite you to the annual Remembrance Sunday Mass at St Aloysius.
The Mass will be celebrated by Fr. Michael Thomas, a former pupil of the college. It will be followed by a procession to the War Memorial in Hornsey Lane where wreaths will be laid on behalf of the Governors, staff, students and Old Aloysians and a two minutes' silence will be observed.
After the Remembrance Service there will be the opportunity to meet in the college over a cup of tea or coffee. Following that, you are very welcome to join Aloysians and others at the College Playing Field Pavilion in Hurst Avenue, N6 5TX, where the bar will be open.
We look forward to welcoming you to this important annual event in the college calendar.'